Explore the top 10 best drones for fun and excitement! From high-quality cameras to intelligent flight modes, these drones promise unforgettable aerial adventures. Read our buying guide and FAQs to choose the perfect drone for your recreational needs.
In recent years, drones have taken the world by storm, transcending their military origins to become popular recreational gadgets. Whether you are an adrenaline junkie seeking aerial thrills or a photography enthusiast looking to capture stunning vistas, drones offer an exciting and unique way to experience the world. With a multitude of options flooding the market, finding the perfect drone for fun can be overwhelming. Fear not! In this article, we have curated a list of the ten best drones that promise endless entertainment and adventure.
Buying Guide for Best Drones for Fun: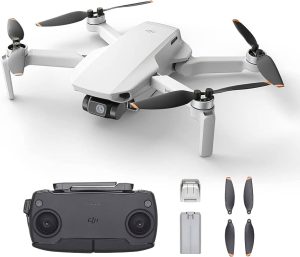 Flight Time: Consider the drone's flight time, as longer flight durations allow for more fun and exploration without frequent interruptions for battery changes.
Camera Quality: If you're interested in aerial photography or videography, choose a drone with a high-resolution camera and stabilization features to capture stunning shots.
Portability: For adventurers on the go, opt for a compact and foldable drone that is easy to carry in a backpack or travel case.
Flight Modes: Look for intelligent flight modes such as Follow Me, Waypoints, and Active Track, which add versatility and creativity to your flying experience.
Obstacle Avoidance: Drones equipped with obstacle detection and avoidance technology offer added safety during flights, especially in challenging environments.
Controller Type: Check if the drone comes with a dedicated controller or relies on a smartphone app. Some pilots prefer physical controls for better handling.
Range and Signal Transmission: Consider the drone's maximum range and signal transmission technology to maintain a stable connection during flights.
Ease of Use: If you're a beginner, choose a drone with user-friendly controls and features that make it easier to learn and fly.
Price: Set a budget that aligns with your needs and expectations. There are drones available at various price points, catering to different preferences.
Reviews and Ratings: Research customer reviews and ratings to get insights into real users' experiences with the drone you are considering.
Top 10 Best Drones for Fun and Adventure: Aerial Delights Await!
DJI Mavic Air 2:
The DJI Mavic Air 2 is a top-notch drone known for its incredible flight performance and powerful camera capabilities. Equipped with a 48-megapixel camera, it can capture stunning 4K videos and breathtaking aerial photographs. Boasting a 34-minute flight time, obstacle avoidance sensors, and intelligent flight modes, this drone offers an exceptional experience for recreational pilots.
Features:
4K/60fps video and 48MP photos for stunning visual quality.
Impressive 34-minute flight time and a maximum range of 10km.
Advanced obstacle avoidance sensors for safe and worry-free flying.
Intelligent tracking modes and pre-programmed flight patterns for creative shots.
Parrot Anafi:
The Parrot Anafi is a lightweight and portable drone that packs a punch. Its 180-degree gimbal tilt and 4K HDR camera allow you to capture dynamic shots from unique angles. Additionally, its quiet flight and easy-to-use controls make it an excellent option for beginners looking to embark on their aerial adventure.
Features:
4K HDR camera with a 180-degree vertical tilt for unique perspectives.
Ultra-portable design that can be easily folded and carried in a backpack.
Up to 25-minute flight time and top speed of 34 mph (55 km/h).
Quiet operation for a more peaceful and enjoyable flying experience.
Autel Robotics EVO II:
With a 40-minute flight time and a 6K camera, the Autel Robotics EVO II is a drone that offers impressive performance. Its foldable design and obstacle avoidance system make it a suitable companion for outdoor excursions and challenging flying conditions.
Features:
Exceptional 6K camera for professional-grade video and photography.
40-minute flight time, ideal for extended aerial sessions.
Omnidirectional obstacle avoidance sensors for enhanced safety.
Foldable design for easy transportation.
Ryze Tello:
Perfect for beginners and younger pilots, the Ryze Tello is a budget-friendly and highly maneuverable drone. Although small in size, it comes with a 720p camera and easy-to-use programming features, making it a fun option for educational play and learning the basics of drone piloting.
Features:
Budget-friendly option for beginners and recreational pilots.
720p HD camera for capturing basic aerial footage.
Lightweight and agile design for easy maneuverability.
Scratch programming allows for fun and educational coding experiments.
PowerVision PowerEgg X:
If you're an adventure enthusiast who loves the water, the PowerVision PowerEgg X is the drone for you. This unique drone can transform into a waterproof and floating device, allowing you to capture breathtaking footage on both land and sea. With 4K video capabilities and AI tracking, it's an excellent choice for action-packed adventures.
Features:
Waterproof and buoyant design for flying over water and capturing aquatic adventures.
4K/60fps camera with 3-axis stabilization for steady and smooth shots.
AI tracking for following subjects automatically during action-packed scenes.
Easy one-handed operation for quick deployment and flight.
Holy Stone HS720:
The Holy Stone HS720 is a mid-range drone that offers impressive flight stability and a 2K camera for crisp aerial shots. With GPS-assisted flight and several intelligent flight modes, this drone caters to both beginners and experienced pilots, ensuring hours of entertainment.
Features:
2K camera for clear and detailed aerial photography.
GPS-assisted flight for stable and reliable positioning.
Follow Me mode for hands-free tracking and filming.
Brushless motors for quieter operation and increased durability.
Yuneec Typhoon H Pro:
The Yuneec Typhoon H Pro stands out with its hexacopter design, ensuring enhanced stability and safety during flight. Its 4K camera is mounted on a 3-axis gimbal, providing smooth and professional-grade footage. The drone also comes with obstacle avoidance and autonomous flight modes, making it a reliable choice for fun and creative flying.
Features:
Hexacopter design for added stability during flight.
4K camera mounted on a 3-axis gimbal for smooth footage.
Intel RealSense technology for obstacle detection and avoidance.
Multiple flight modes, including Orbit Me and Journey Mode.
Autel Robotics EVO Lite:
The Autel Robotics EVO Lite offers an affordable entry into the world of drone flying. With a 2.7K camera and stable flight performance, it's a great option for those looking for a budget-friendly yet entertaining drone.
Features:
2.7K camera for above-average image and video quality.
GPS/GLONASS positioning for precise and stable flight.
Altitude hold and one-touch takeoff/landing for easy operation.
Brushless motors for quieter and more efficient flight.
DJI Mini 2:
The DJI Mini 2 is a compact and lightweight drone designed for portability and ease of use. Despite its small size, it features a 4K camera and impressive flight capabilities, making it perfect for travelers and adventurers who want to document their journeys from the sky.
Features:
Compact and lightweight design for easy portability.
4K/30fps camera with a 3-axis gimbal for steady footage.
QuickShot modes for automated and creative flight patterns.
Ocusync 2.0 transmission for reliable and clear video feed.
Potensic D85:
The Potensic D85 is an all-terrain drone equipped with powerful brushless motors, providing a thrilling flying experience even in adverse weather conditions. Its 2K camera and long flight time ensure that you can capture stunning footage during extended flying sessions.
Features:
All-terrain drone with powerful brushless motors for stable flight.
2K camera for sharp and detailed aerial photography.
Follow Me mode for capturing dynamic shots on the go.
Modular battery design for extended flight time.
Conclusion:
These top 10 best drones for fun encompass a range of features, capabilities, and price points, making it easier for you to choose the perfect aerial companion that suits your needs and desires. Whether you're a photography enthusiast, an adventure seeker, or simply looking for an exciting new hobby, these drones are sure to provide hours of enjoyment and unforgettable flying experiences. Remember to always fly responsibly and follow local regulations to ensure a safe and enjoyable journey in the skies!
FAQs (Frequently Asked Questions) about best drones for fun:
Are drones easy to fly for beginners?
Many modern drones are designed with beginner-friendly features, such as GPS-assisted flight and one-touch takeoff/landing, making them relatively easy to fly for newcomers.
Do I need a license to fly a recreational drone?
Regulations regarding recreational drone use vary by country. In some places, you may need to register your drone or obtain a permit before flying. Always check local laws and guidelines to ensure compliance.
What's the difference between 4K and 6K cameras on drones?
The main difference is in resolution; 6K cameras offer higher image quality and more detail compared to 4K cameras. However, 4K cameras are still excellent for recreational photography and videography.
How far can drones fly?
The flight range of drones depends on the model and signal transmission technology. Some recreational drones can fly up to several kilometers from the pilot, but it's essential to stay within the legal range set by local regulations.
Can I fly my drone in any weather condition?
Most recreational drones are not designed for extreme weather conditions, such as heavy rain or strong winds. Always check the manufacturer's guidelines and avoid flying in adverse weather to prevent damage to the drone.